When Do I Pay
Here's how the payment process works, which takes place later (upon returning your Jeep). Simply put, you will not pay until you are finished with your Jeep. (use our
Jeep rental form
for more info)
We Provide the Following
1. Natl. Car Rental Agencies
2. Extra Drivers - Typically Free
3. Actual Customer Service
4. Easy Change or Cancel - Free
5. Pay LESS than Booking Directly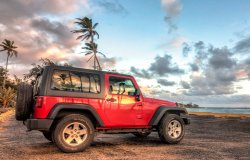 Yes, we're open for business! Many consider Kauai the safest tropical destination in the United States.
We remain committed to helping you move forward. Our airport lots are fully stocked with Jeeps and as an essential service provider, we are still open to serve clients who rely on us to provide critical mobility options on Kauai.
In addition, we are offering modified service options at this time for safety. As of early 2020, the State of Hawaii is requiring all passengers to fill-out the new Mandatory Travel Declaration Form. Every adult and crew member will need to complete this mandatory form. We're offering the form to help simplify your travels. It's much easier to print the form now instead of waiting to do it on the airplane before deplaning.
For an enjoyable driving experience on The Garden Isle, a Jeep can't be beat. Kauai Jeeps has partnered with leading rental car companies to offer you a great price for whatever vehicle you decide to drive in the islands.
Safe Vehicles & Flexible Booking
Kauai Jeeps has you covered
Book Risk-Free
Check rates and book. Our system is simple, with all taxes/fees included. See for yourself how you can enhance your driving experience in Kauai while saving money too.
Both of our vehicles (Jeep Wrangler and Jeep Wrangler Unlimited) come with free mileage, 4WD, A/C , automatic and we typically have access to free extra drivers for your Jeep. Please consider other options if you have a large group.
Just Kauai? Would you like a Jeep rental on a different Hawaiian Island? We also have Jeeps on Oahu, Maui, Big Island Hawaii (Kona & Hilo), and Molokai.