Rules of the Road - Driving in Kauai
When you consider the alternatives, such as limited bus services or expensive taxis, renting a car during your visit to Kauai is the best option for going where you want to go, when you want to get there, and staying until you are ready to leave.
"...best advice we can offer is to always practice Aloha while driving..."
Before you can drive in Kauai, you have to get to your rental agency to pick up your vehicle. It's not uncommon to have to wait in line at the rental desk, particularly if you arrive on a packed flight or right after other flight have just arrived. Perhaps one of your traveling companions can pick up your luggage while you head straight to the rental desk as soon as you get off the plane.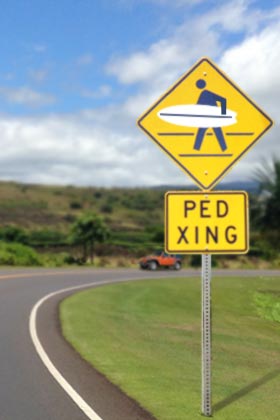 Once you're on the road the best advice we can offer is to always practice Aloha while driving. Aloha is not just a friendly greeting, it is also a spirit of living in harmony and cooperation with others. This means if you keep your cool, allow other cars to merge when it's their turn, avoid tailgating, don't honk your horn unless it's an emergency, and simply avoid aggressive driving, it will be noticed and appreciated.
As we all know, the scenic beauty of Kauai is one of the main reasons to come visit. However tempting it is to try and enjoy the view while you are driving, remind yourself to keep your eyes on the road. If you see something you like to take a better look at, please find a safe place to pull over so you can get out and really soak it in. There's no point in rushing past any sights that catch your eye.
You might think it would be fun to take your rental vehicle to find some hidden picnic spot or maybe the perfect little beach, but if the road in to these places is not paved, you'll need to park your ride, and go the rest of the way on foot. Driving off-road is prohibited by all the major rental services, and doing so will violate your rental agreement and any insurance you might have had will no longer cover any damages that take place. You will be financially responsible to the rental agency for all costs.
In spite of even the best plans, things don't always go our way in Hawaii. Things still happen, even in paradise. Remember not to leave any of your personal items visible in your car while it is parked and unattended. You can put these things in the trunk or leave them in your hotel room. Most importantly, never leave valuables anywhere in your rental car while it is parked. If by chance something were to happen, such a break-in, mechanical trouble, or an accident, remember to carry your rental agency's 800 number with you at all times. Call them right away, or as soon as possible after something happens.
Be patient when picking up the car. Rental desks can frequently be busy, and waiting in line is not unheard of.
Aloha is sending and receiving a positive energy. Aloha is living in harmony. Practice "Aloha" when driving in Hawaii. Your fellow drivers will reciprocate.
Don't tailgate, most drivers will only slow down more when tailgated.
Avoid honking the horn unless it's really necessary.
Stay calm (it's why you came!) Getting upset will not get you there quicker.
It's very easy to get distracted by the scenery on Kauai, remind yourself to keep your eyes on the road.
Please don't drive your rental car off-road. This includes Jeeps and other SUV's.
Never leave valuables in the car when parked.
Don't leave any personal items visible in the car when parked (use the trunk).
Keep your rental agency phone number in the car in case of breakdown or other issues with the car.
All Jeeps are left-hand drive (LHD) with 4WD. Traffic in Kauai keeps to the right, known as right-hand traffic (RHT).
The diagram below shows example turns:
Two-way to Two-way
One-way to Two-way
Two-way to One-way
One-way to One-way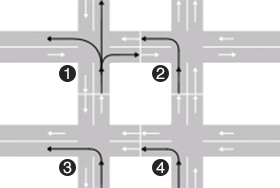 If interested, you can review the Kauai, Hawaii Drivers Manual for more tips.