Kauai Airport (LIH) Lihue, Kauai
Current map (PDF): http://hawaii.gov/lih/terminal-information
Driving directions map to LIH: https://airports.hawaii.gov/lih/getting-to-from/driving-directions/
Lihue Airport Address
3901 Mokulele Loop
Lihue, HI 96766

Nestled amidst the lush greenery and stunning landscapes of the Garden Isle, Lihue Airport (LIH) welcomes travelers with a unique, open-air design that seamlessly blends the natural beauty of Kauai with modern convenience. As you step off the plane and make your way through the airport, you'll immediately feel the warm embrace of the tropical breeze, inviting you to slow down and soak in the tranquil ambiance that defines island life. The airport's thoughtful layout pays homage to Kauai's rich heritage and provides a fitting introduction to the enchanting world that awaits you beyond its gates.
As you navigate the charming indoor-outdoor spaces of Lihue Airport, you'll encounter a thoughtfully curated selection of amenities designed to cater to your every need. Relish the opportunity to browse through quaint shops offering an array of locally crafted souvenirs and Hawaiian treats, or grab a bite at one of the cozy eateries that capture the essence of Kauai's diverse culinary landscape. Amidst the gentle rustle of palm leaves and the soft melodies of native birds, Lihue Airport sets the stage for your Kauai adventure, creating an unforgettable first impression and igniting your senses with the alluring spirit of Aloha.
Finding your specific rental car counter is quick. After arriving on the ground floor of the terminal, follow the signs to baggage claim and the rental counters are just beyond.

We also have rental Jeeps available in the Poipu area and the Princeville airport.
View all Jeep Wrangler rental locations.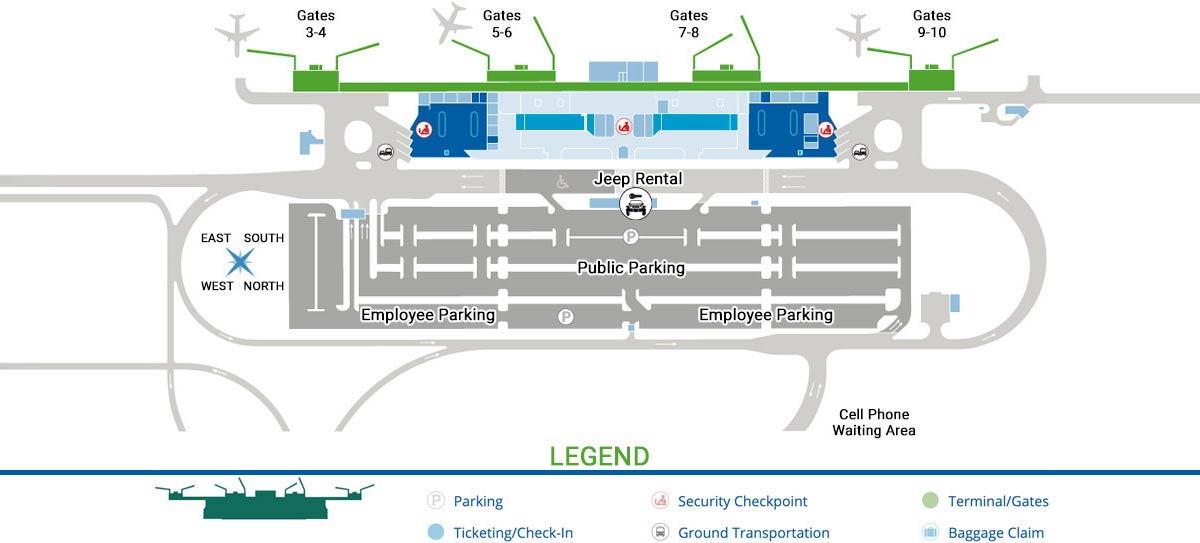 Once you've retrieved your luggage in Baggage Claim, you'll find rental car booths out the door and across the street. For your convenience, Alamo, Budget, Avis, Dollar and Hertz are located in the airport. Enterprise, Thrifty and National are a brief shuttle ride (3-5 minutes) to their off-site locations.
Alamo is just one of our partners that let's you pick your Jeep from all the choices available. Most of our partners try to keep 10+ Wranglers to choose from. Color and wheel style are the main differences between Jeep models.
The rental lots at the Kauai airport in Lihue are located out of doors. Simply choose your 2 door or 4 door Jeep Unlimited and head for the exit gate.