Can I Drive My Kauai Jeep Wrangler Rental Off-Road?
It's a Jeep! Jeeps are built for off roading. So-- why are drivers limited in where they can drive their rental cars?
Think: Common Sense. Would you loan your new vehicle, Jeep or otherwise, to someone who wants to drive a remote, or rutted, or muddy, or brush-lined track? If they become stuck, would it be convenient for you to retrieve them and your vehicle? Who would be responsible for any injury or damage? What if the damage were scratches or "pinstriping"? Is that serious enough to warrant repair? Or a flat tire? Or a damaged undercarriage?
Generally, "remote" areas of the Hawaiian Islands attract locals wishing to get away from tourism. It's not only wise to give these folks privacy, it's a matter of safety for you, your passengers and your rental vehicle.
Fortunately, Kauai only has one remote area that's not approved for rental Jeeps. It's located far west on the island. The area is wild, and best seen on foot.
Our major rental car partners take violations of driving on unauthorized roads quite seriously. Keep this in mind: Everyone has different driving skills and experiences. Rental car companies are liable for each person's safety. Essentially, you are paying to borrow an expensive piece of equipment. And, we've all been taught that borrowed objects should be returned in the same condition as they were when we took responsibility for them. What driver can guarantee a same-condition vehicle return following drives through brushy, rough terrain? Please--- practice Aloha.
Top 5 Reasons Rental Company Knows You Went Off-Roading in Your Jeep Rental
There is more mud on the interior of your Jeep than there is on the exterior
Jeep is covered with numerous scratches, known as "pinstriping"
Your rented a White Jeep and returned a Brown Jeep
Jeep arrives at rental company on a 4 wheel-drive, mud covered tow truck
You return to rental company with a tall-tale, but no Jeep
Learn more about driving in Kauai and Rules of the Road
Off-roading in Kauai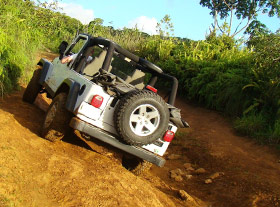 Kauai Jeep trail is steeper than a cows face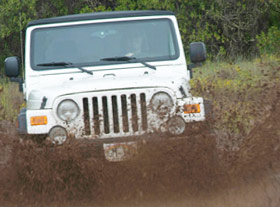 Your bright white Jeep Wrangler rental - Nice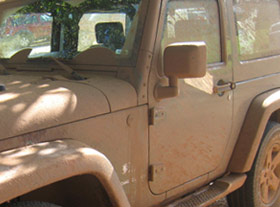 Jeep Wrangler is now mud brown - Whoopsie