Should I Rent a Two Door or Four Door Wrangler Jeep?
Kauai Jeeps has two Wrangler door-styles available for rental. Both are fun to drive. The 4-door has seatbelts for 5 passengers. Each style has its own advantages. How do you decide what you'd like to rent for your stay on Kauai?
The "Unlimited" 4-door Jeep is the preferred vehicle for 3, 4 and 5 adult passengers. The larger size and easy access provide more spaciousness for passengers and their cargo.
Note: easily removable front roof panels on the 4 door Jeep.
A primary advantage of a 2-door Jeep largely lies in your ability to remove the top. Frequent rain, possible anytime in the islands, makes the cloth top more instantly changeable. The 2-door style is great for two people with average gear and luggage and 2 young children, without need of special seating, can easily pop in and out of the rear passenger bench seat. While all of the Jeeps we rent are 4-wheel drive, our partners rental contracts disallow off-road travel. This should not be an issue as most roads on Kauai are paved. Learn more about driving on Kauai and local rules of the road.
Four Door Unlimited Jeep advantages: Check Rates
Easier for adult backseat occupants to get in and out
Larger cargo area in back
2 back seats fold down independently for more cargo room
More length for surf boards and other aquatic equipment
Increased backseat legroom
Longer wheelbase makes for slightly easier handling
Easier to install and access backseat child seating
The roof panels for driver and front passenger can be removed
5 passengers (includes driver)
Two Door Jeep advantages: Check Rates
It's a smaller (dare we say "cute") vehicle
Cloth top models have more easily removed tops
Bit better gas mileage
Slightly better turning radius
Cheaper rental price
4 passengers (includes driver)
All Jeeps are a fun way to get around on Kauai. They provide a "sporty", engaged driving experience-- not the same as a comfort-centered commuter car. Island distances are short and the pace is slow, so a plush or fast car is not necessarily an advantage on The Garden Isle. Wranglers, sitting taller than average passengers cars, provide great visibility for drivers, especially those new to the island. And, the "fun factor" of driving a Jeep can't be topped.
Read about the Pros and Cons of Renting a Jeep in Kauai, Hawaii.
Compare luggage space / cargo storage for the Jeep Wrangler and Jeep Wrangler Unlimted
Jeep Wrangler 4 Door Luggage Space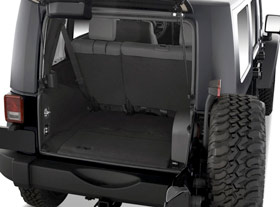 31.5 cubic feet with rear seats upright
70.6 cubic ft with rear seat folded down

Jeep Wrangler 2 Door Luggage Space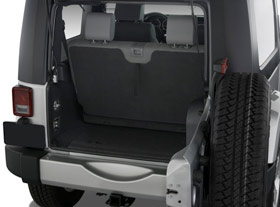 12.8 cubic feet with rear seats upright
55.0 cubic ft with rear seat folded down